Boy has it been a crazy week and a half! As you can probably tell since I haven't posted on here in a while.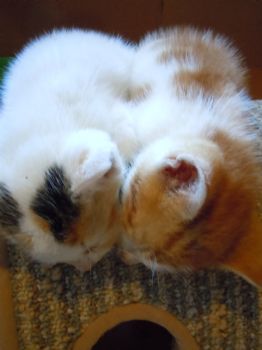 First off, Rob brought home presents from work!
They may look cute and cuddly but they have been a handful!!! The one has some serious digestive problems and we think it may be the canned food so now we're trying hard food that has been soaked. We think they are about 4-5 weeks old. We are thinking we will keep the white one. We might have a home for the orange one. The woman wants it as a barn cat but seriously, this cat should really be an indoor cat. It is soooo cuddly and purry. It is the perfect lap cat. I can't keep both though 🙁
So they have been taking up a lot of my time between feeding them, playing with them, cleaning up poo, etc. The white one was so small, I had to teach it to eat with a spoon! Luckily its eating off a dish now.
Rob and I live with my parents right now and my mom has been trying to remodel her kitchen for years. Well, we decided we would help and finish off her pantry for her. It turned into the project from hell but came out well so it was all worth it. I just officially hate Home Depot. So for 3 days straight, we did nothing but work on this (hence why I've been MIA)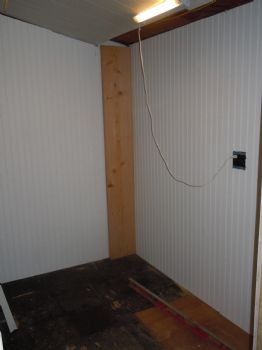 My dad finished up the electrical and hung bead board on the walls. Rob and I got started!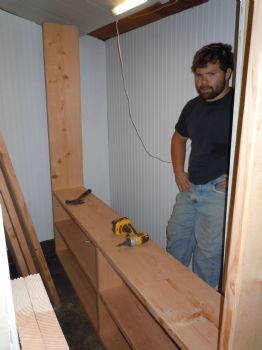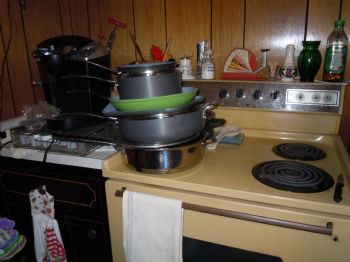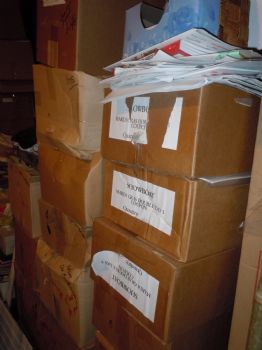 As you can see, our kitchen is a bit of a disaster right now. We had to pack everything up from the old cabinets so we could work. Hopefully we will be back to having a normal kitchen soon! Here is the finished project and we already started filling it up!
Sorry that the pictures are all crazy today. I copied them from my other blog and they don't want to go where I want them to! Anyway, hopefully this week will calm down. It already has a little bit. Also, Monday is my last day of night shift hopefully for a while. I was starting to enjoy it though, it is very quiet and calm at work at night. I really miss having time with Rob though! No major projects this weekend. Bike ride planned. I also have some craft projects to do ASAP and grad school applications to fill out. Can't wait for 2 full days off though!