Yesterday…


I drank all my water, despite having like 3 lattes (eek)


I ate a little too much at dinner but didn't do nearly as bad as I thought. (2044)


I didn't have time to work out.
I don't know what was up with the coffee yesterday! But at least I drank my water. Usually I'm too distracted drinking other beverages that I don't get my water. I ended up eating too much because we went out to dinner. We just didn't feel like cooking. After that, we headed to the bike shop to get a new tube for Rob's tires. We also got some spares for the bike race this weekend (I can't believe its here already!!!) My work got us Jerseys to wear even though only 3 of us are riding (I think leftover from a previous race they sponsered)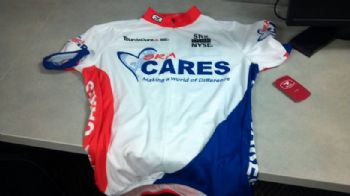 We putzed around shopping for a while and headed home. We spent some time chatting with my mom and cutting up a fresh watermelon she got from the farmer's market. It is delicious! Anyway, so by the end of all that, it was 8:30 and time for bed. I PROMISE to work out tonight!!! If I do anything tomorrow, it will be an easy 3 miles since I don't want to be sore for Sunday!
I don't know why but I felt so frazzled yesterday. I think I had too much caffeine first thing in the morning. Usually I only have a coffee but I had stopped and gotten a medium latte at Starbucks (that's 2 shots of espresso!). Not good for me. I have Starbucks today too… and its decaf. LoL. I also have a lot going on in life right now. So anyway, that brings me to my question of the day!

What did you do that was relaxing yesterday?


Since I was feeling so off, I just wanted to get away. Luckily I am working this week at our main office instead of at the lab. This means a nice desk to sit at and a beautiful building (with a coffee shop, but that is a whole other issue cause they've got yummy lattes and cookies!) Anyway, so I was feeling burnt so I went outside and called my hubby for a few minutes. Love the patio!


Happy Friday everyone!