I realized today that it was the beginning July. I figured I should make some goals this month to help get me focused. I also needed a good way to keep reminding myself of my goals. I used to keep them in my cubicle but I don't use one at work anymore so I needed a new place. Here is our new organization center at home: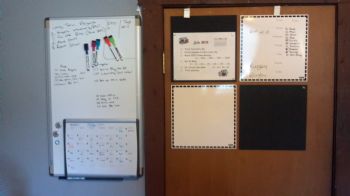 The big white board Rob uses. I used the little ones but I added a calendar to Rob's so I could keep a schedule for my workouts: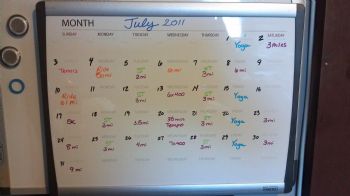 And to keep me super organized (cause color coded is awesome) and motivated (because who doesn't like coloring?) I got these: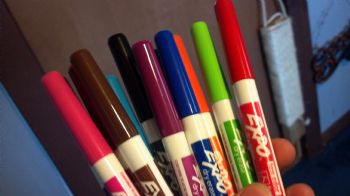 I'm all set! I made my goals and put the chart up on my peg board. Here is what it looks like before printing: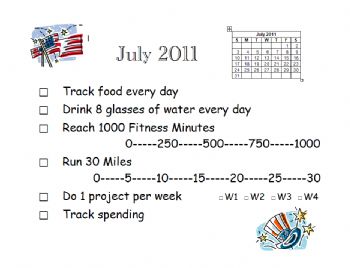 Goals for this month:


Track food every day
That means everything! Even if its annoying or difficult to track. This is basically just to get me back into the habit.


Drink 8 glasses of water every day
This is always a goal really


Reach 1000 fitness minutes.
I slacked this month, 1000 is totally doable.


Run 30 Miles
I have my half marathon in September. Time to hit the pavement!


Do 1 project per week
I have so many things I want to do! I still have to make my wedding scrapbook (2.5 years married now). I also have lots of sewing I want to do. 1 project per week doesn't sound crazy, but its gonna be hard!


Track spending
This is usually a goal too but I need to be more strict about it. Gotta know where that money is going!
So that's really it. Nothing too crazy. Just a way to get me going again! I love making charts and graphs so this really helps me! And its nice to start each month off with a clean slate 🙂